Financial assistance
1. A monthly stipend of NT$25,000.
2. Duration: two months (summer courses), three months, six months, nine months, or 12 months.
Eligibility
Each applicant shall:
| | | |
| --- | --- | --- |
| 1. | be of age 18 or older; possess a high school diploma or higher; have performed well at his/her most recent academic institution and be of good moral character. | |
| 2. | be neither a Taiwanese national, nor an overseas Taiwanese compatriot. | |
| 3. | be neither currently enrolled in a Mandarin training center nor in a full-time degree program at any university or college in Taiwan. | |
| 4. | have never received any financial assistance under this or any other Taiwan Scholarship programs (offered by MOFA, MOE, MOEA, and NSC). | |
| 5. | not be an exchange student through an academic cooperation agreement between an overseas university/college and an educational institute in Taiwan. | |

Recipients cannot accept any other R.O.C. government-sponsored scholarships or subsidies concurrently with this scholarship.
The type of visa of the applicants who apply for Huayu Enrichment Scholarship (HES) can only be issued under the category of "visitor visa for studying Chinese purpose".
For more information about visa, you can visit the website of visitor visa for studying Chinese purpose.
Where to Submit Your Application
Available Scholarships
The Ministry of Education will consult the annual budget and provide available openings for the next year to embassies, missions, representative offices and other overseas agencies authorized by the Ministry of Foreign Affairs before December 31st.
Application Dates

Between Feb. 1 to March 31 every year (Please refer to their website for the exact dates and latest information)
Application
Applicants need to submit the following documents to local embassies or missions before the announced deadline
(In principle, the yearly application period is from February 1st through March 31st. However, the actual application period will be in accordance with the general regulations of the local Taiwan Representative Offices).
a.

An application form (provided by local embassies or missions).

b.

A photocopy of his/her passport or any other documents that can verify the nationality of
the applicant.

c.

A photocopy of the certificate of the highest credential and transcript.

d.

A photocopy of the applications to the Mandarin Language Center.

e.

Other documents required by local embassies or missions.
Selection Procedure
a.

As stated in the embassies and missions announcement, a document review or personal interview will be conducted.

b.

If a successful candidate waives his/her right to a scholarship before arriving in Taiwan,
his/her position will be filled by the next candidate that has been selected by the local embassy or mission. The deadline is December 31st
Grant details
The scholarship is given month by month after confirming applicants' attendance hours which meet the requirements.
The payment of the scholarship every month will be made into the applicant's bank accounts in the middle of next month.
The scholarship in the final month will be given earlier.
The tuition should be paid while registering for the Chinese program.
Terms and Conditions for Recipients
a.

The recipient should study at a registered Mandarin Language Center (Only Chinese version) approved by the MOE.

b.

The recipient should apply for admission according to the regulations of the center. Once admitted, the recipient should send a photocopy of the admission letter to the local embassy or mission before June 30th for confirmation. Recipients who do not send their documents before the deadline will be disqualified from the scholarship selection process.

c.

The recipient should undertake at least 15 hours of language courses each week. This does not include cultural visits, speeches, and other self-learning curriculum or activities.

d.

After the first semester (quarter), recipients of a maximum one year scholarship can request a one time only transfer to another Mandarin Language Center with permission of the original Mandarin Language Center. Recipients of the summer classes, 3 months, 6 months or 9 months scholarship are not allowed to apply for a transfer.

e.

If the recipient concurrently accepts scholarships from other sources, he/ she will lose their placement in the scholarship program. He/she will also have to return the funds granted for those months that he/she received multiple scholarships.

f.

The termination and cancellation of a scholarship is based on regulations specified by each individual Mandarin Language Center. Mandarin Language Centers have the right to terminate or revoke a scholarship if the recipient's academic performance, moral character, or attendance record are not up to their standards.

g.

Recipients of a six month or longer scholarship are obligated to join the National Health
Insurance Program. Before joining, recipients should purchase student accident insurance and other relevant insurance. Insurance fees can be deducted by the Mandarin
Language Centers from the monthly stipend before granting it to recipients.
Laws and regulations
Input ''Huayu Enrichment Scholarship" and submit on the website of Laws and Regulations Retrieving System.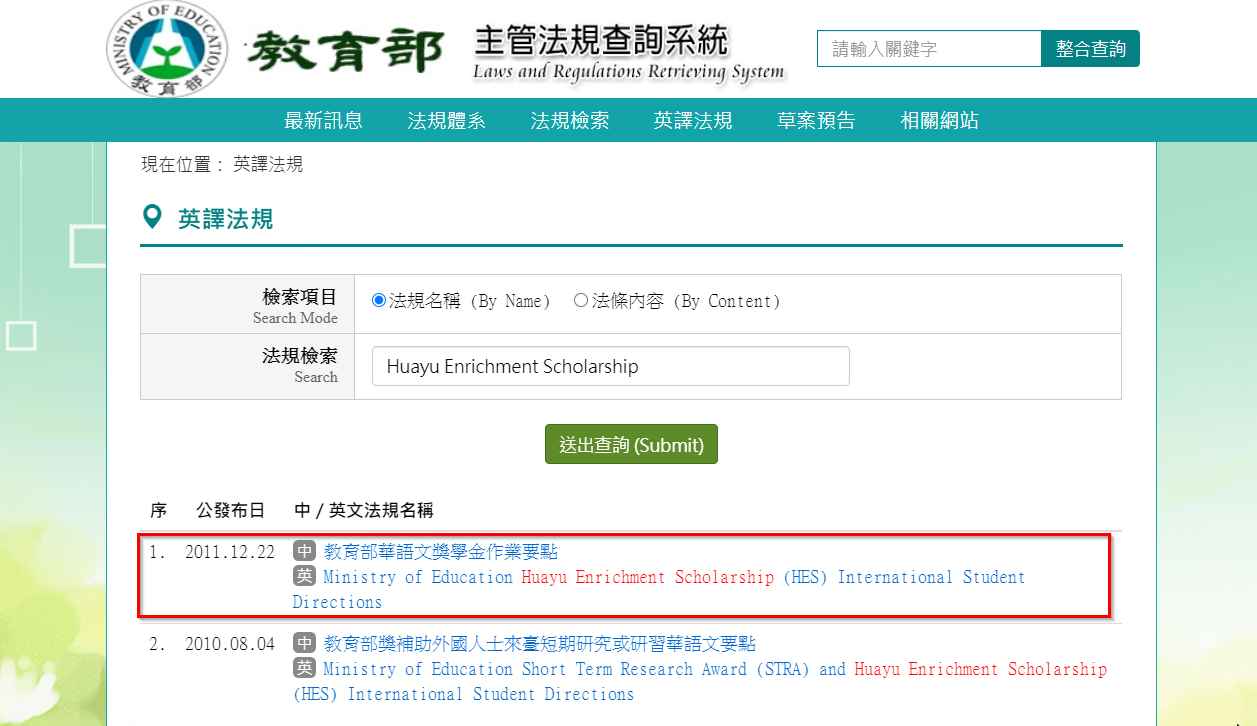 Other information
For more information, please visit the website of Taiwan Scholarships and Huayu Enrichment Scholarship Program
Tel: 886-2-2882-4564 ext. 2398
Fax: 886-2-8861-3491
Email: taiwanscholarship@mail.moe.gov.tw
Please refer to their website once the information is changed.